Wrap N Ride© Sport Medicine Splint Boots - Pair
Wrap N Ride© Sport Medicine Splint Boots - Pair
Related Products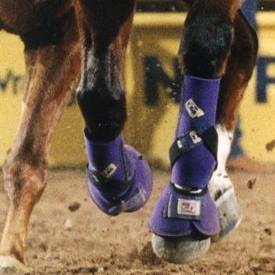 mPact Stealth Boot - Orthopedic Therapeutic Sports Medicine Horse Boots
$69.95
Often imitated, never duplicated.  Our therapeutic mPact Stealth Boot was developed by veterinarians and pro-horsemen for hard working equine athletes.  Suspensory injuries is one of the most common injuries for performance horses.  The mPact Stealth was developed with the rigorous demands of tough competition in mind.   Featuring 9/32" Maxi Gr...
Sports Medicine Boots
From $49.95
Bar_F Workhorse 745 Double Lock Splint Boots - Front Pair
$49.95
This hard working tendon boot is as beautiful as it is tough.  Constructed of 9/32" shock absorbing neoprene, with double padded Coverlight in the splint and fetlock area to prevent brushing injuries.  Center back seam reinforced for added durability.  Secured with four double lock hook and loop velcro closures for a secure fit. This galloping b...